Commercial Carpet Cleaning
Whether it's during our high traffic tourist season or during the rainy summer months, commercial carpet cleaning in Naples is essential to prevent carpet from showing it's age well before its time.
Living near the salty Gulf of Mexico air makes dust, dirt and allergens accumulate much faster than usual. Having a regular cleaning schedule is even more important when you live near the beach.
When your carpets are clean it creates a welcoming environment for employees, visitors and clients alike. Dirty, stained, and foul-smelling carpet can immediately send a negative message about your business.
And just like your carpet, upholstered furniture gets dirty and stained too.
Properly maintained carpet and upholstery not only looks great and lasts longer, but also reduces the potential for indoor air quality issues. At Clean life Cleaning Services, we use the best commercial carpet cleaning equipment available in the Naples, FL area.
Our Method vs. "Others"
Our upholstery and carpet cleaning products are non-toxic, hypoallergenic, biodegradable and fast drying for true professional results.
Your carpet and upholstery needs expert care and regular maintenance to protect the look and value. Our cleaning method uses a hot water extraction process, which is the only process that allows for "deep cleaning".
What's special about the hot water extraction carpet cleaning process?
Most carpet manufacturers recommend this method to consumers.
It's far more efficient when cleaning your carpet than any other method.
Beware of "other" processes that do not fully remove soil nestled deep within the carpet fibers. These other methods are known to leave large amounts of carpet cleaning solution in the carpet after cleaning. This is a leading cause of soil and grime build up.
Recommended Carpet Service
Our most popular service involves regularly scheduled maintenance, where we design a cleaning plan that specifically addresses your space. This will ensure that your carpet and upholstery will be clean, and last longer!
No matter what your budget is, expect your carpet to be remarkably cleaner with Clean Life Cleaning Services.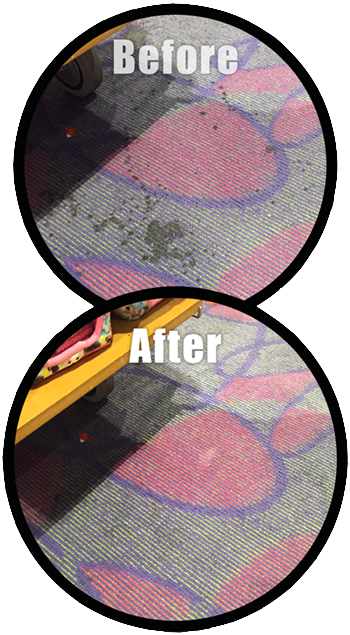 Real Client Feedback
"The floors look awesome!! Thanks for doing such a wonderful job."
– Jeff P, Facilities Manager
"I am AMAZED that you were able to get our floors back to like new look"
– Gary J, Commercial Building Owner